This contest probably isn't what you think. To show your support for SKIN TIGHT (and BatPunisherMan), I'm asking you to display the hot graphic in my left sidebar (designed by Moira Rogers) on your website, Facebook page, blog, or what-have-you for the next month. Here's the code. (Copy everything after it says Skin code; you don't need those two words at the top of the page.) Once you've done that, come back and let me know by leaving me a link so I can go admire the sexy that is our hero. For a second entry, change your avatar on Twitter (or any other social media) to the BatPunisherMan image. (That's sized for Twitter.) Then comment here telling me you've done that. (You can download the picture by right clicking on my sidebar and choosing save-as.)
In return, you'll be entered to win. Here are some of the prizes:
There's also a sekrit grand prize.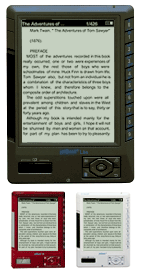 Has guessed the sekrit grand prize on Twitter! I'm giving away an ebook reader. I am SUPER curious about the JetBook Lite because it runs on regular AA batteries; this permits 23 hours of reading, and you can use rechargeable AAs. That seems like genius to me. It comes in burgundy, black, and white. Winner gets to choose his/her favorite color. Read up on it here. I may buy one for myself, too. I love simplicity. (I'll get burgundy.)
Plus, I will ALSO be giving away one e-ARC of SKIN TIGHT per week, until my June 1 release date. Sound like fun? Then show me some skin! Note: for additional entries, I also invite you to talk about SKIN GAME in comments. But do mark spoilers if you give them. Carry on.
Winner of a SKIN TIGHT e-arc: Annmarie
Winner of Under the Gun: Insane Hussein
Winner of One Deadly Sin: Pearl
Winner of a signed copy of I'll Be Slaying You: Lauren
Five winners of e-copies of Sanctuary Unbound: Carolyn W, Jackie U, Bonnie Ferguson, Carrie, Donna S
Winner of the signed Demonica books: Stephanie G
Winner of signed Unholy Ghosts: Fedora
Winner of signed Embers: Moonsanity
Winner of Mindhunters trilogy: Kristine
Winner of ARC of Body Master: The Book Vixen
Winner of ARC of Shadows at Midnight: jaymzangel
Big winner of the E-reader: Sharla Long
Email me to collect your winnings. If you won a physical book, I need your full name and address. If you won an e-book, the email is sufficient. Congrats!
And that's it for the contest. I hope everyone had a good time.