Today kicks off a spring YA Scavenger Hunt, and there are tons of great prizes to be won. You decide how much effort to put into it, but the rewards will definitely be commensurate with the time you spend visiting various sites and gathering clues.
There are three teams: RED, YELLOW, and BLUE.
I'm on the RED team, myself.
If at any point, you get stuck, there's help here.
Between all of us, there are a total of 60 books being given away. You can enter all three loops so you have a chance at all of them, or you can just do one team giveaway for a total of 20 books. Either way, it's up to you. Pretty exciting stuff, right? You'll also receive sneak peeks of bonus content along the way! This includes new scenes, deleted scenes, and cover reveals! You don't want to miss any of it.
I have the pleasure of hosting the talented S.L. Naeole, author of the Belonging Trilogy: DARK VEIL. She's also written about angels (the Grace series) and the Sidhe (the Faeble series). Let's get to know her better before I show you the good stuff, okay?
About Ms. Naeole, in her own words: "I write a lot, I dream a lot, and sometimes I write about what I dream. I've got a serious addiction to snark, and I'm not afraid to use my weapon of choice: sarcasm. With four children, a husband, a cat, and a few invisible friends, it's never quiet in my home but, I suppose, that's what makes escaping to my work that much more worthwhile. "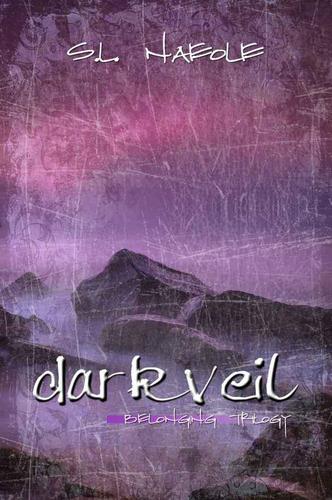 About DARK VEIL: Fallon Timmons didn't know what to expect from the small island her adopted parents grew up on, but whatever it was, she thought she was prepared for it. Then Liam appeared, all teeth and venom, with a warning to stay away from his sister Audrey and from him. It was a warning that she was not going to heed, no matter what the strangely attractive boy said.
Liam Mace was used to seeing the tourists on the Rock, and looked especially forward to them leaving. But Fallon wasn't leaving. In fact, she was staying. Worse, his sister was growing attached to her, and that was never a good thing…
You never become attached to your food.
Black Cat Rock, or the Rock as it is called, is the home of the Panthus, shape-shifting cats of magnificent size and strength who live in their human skins only to protect their secret. During the day they catch fish to sell, or wait on and serve the tourists who come to visit their island, but at night, the fangs come out and the hunt begins as tourist becomes prey.
Does that whet your appetite? You should also check out the first book in her Faeble series, GOSSAMER. Which brings us to Ms. Naeole's bonus content! You lucky readers get to check out the first four chapters of DAMSELFLY, which is the second book in the Faeble series. (I've read GOSSAMER and it's really good.)

First four chapters of DAMSELFLY here. To obtain access, enter the username YASH and the password YASH_2012 into the login section on the right.
If that wasn't enough cool bonus content, you also get a second helping of awesome! Here's the cover debut of SWEET SILENCE, the next book in her Belonging series.
And that's not all! You can enter to win a copy of Ms. Naeole's book by clicking here. Click and tweet; simple, right?
Don't stop playing! To continue hunting for clues and reading more exciting, exclusive content, click on to JERI SMITH-READY's blog. I know she has some delicious goodies waiting.
Finally, this post has been sponsored by the letter R. (Psst. This is an important clue. Remember it!)
PS – Go look for my exclusive content, too! At reader request, I rewrote a scene from Fade's POV, so you get the first ever glimpse inside his head–and how he feels about Deuce. Oh, and you can also win a signed copy of ENCLAVE. So there's that, too. *g* Happy hunting!
Special extra contest: Once you find my secret content in the hunt, come back & tell me what you thought in comments. And you could win…

A SIGNED OUTPOST ARC.